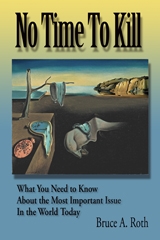 No Time To Kill is a holistic analysis of issues which threaten the extinction of life on a mass scale: WMDs, genocide, nuclear terrorism, and chemical and biological terrorism. The author, Bruce A. Roth, focuses on these complex problems through the lenses of anthropology, psychology, theology, sociology, international law, physical science, politics, and the history of war and weaponry. As WMDs are only a vague concept for most people, Mr. Roth wanted the layperson to be able to visualize their devastation and learn how they threaten civilization.
Everyone has the power to do something to bring about the elimination of WMDs, and No Time To Kill does what few books on this topic have done before—it proposes a practical solution for making the planet safer.
The proceeds from sales of No Time To Kill go toward supporting global nonproliferation efforts. Toward this effect, Bruce Roth created the Daisy Alliance with the goal to sell books and raise awareness. Daisy Alliance premier members receive a free copy of No Time To Kill as well as a Daisy Alliance lapel pin. View excerpts of the book here.